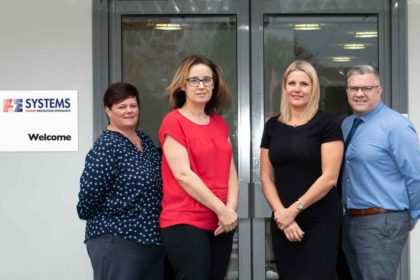 MBO provides growth opportunities for UK's leading provider in power protection.
PE SYSTEMS, one of the UK's premier power protection specialists, has announced that four of its executive team have staged a management buyout as per 1st November 2019.
With more than 80 years of combined experience at PE Systems, the new management team will be focussed on providing a seamless transition during this crucial phase of the company's development, whilst exploring new opportunities for growth.
Nicola Jones assumes the role of Managing Director at the Wigan borough-based company, taking on the mantle from her parents, Mike and June Smith, who originally founded the company in 1987. The buyout team also includes Anouska Gee, Finance Director; Julie Nuttall, Production Director; and Mark Wilson, Sales Director.
Nicola says:
"We're thrilled to have this opportunity of investing in a company that has such a proud heritage here in the North West as well as an unrivalled reputation for delivering quality, service and innovation across the UK and Europe.
"All four of us have a substantial history with PE Systems, and can draw on experience garnered over many years in our respective roles. We chose to invest in PE Systems because we're confident we, together with our 50+ strong team, have the skills and commitment required to secure its future sustainability and growth.
"We also share a vision for its future which will draw upon the inherent values which have underpinned its success to date. The strength of our proposition will continue to lie in the same ethos which governed the business over the past thirty years: to provide quality products with the power to perform, the reliability to deliver and the durability to last.
"We're excited about the challenges ahead and look forward to working with clients in developing new relationships, exploring new markets and commercial applications, and maximising emergent technologies."
Blackburn-based wealth management group, PM+M, played a key role in the buyout. Jim Akrill, PM+M corporate finance partner, says:
"Often this is the best exit solution for businesses like PE Systems, where there is a solid management team taking over along with vendors who are willing to be part of the deal through an ongoing stake in the company for a few years."
Nicola adds:
"On a personal level, I'm immensely grateful to my parents for a chance to follow their example in business and to build on their success. I'm also delighted that we will continue to benefit from my father's input as he will continue to play a role in the future direction of the business as both an ambassador and innovator."
PE Systems has evolved over three decades to become a multi-million pound provider of secure power solutions for clients such as UK National Grid, SSE, UK Power Networks and GE. Its range of products includes standby generators, AC/DC uninterruptible power supplies, hybrid energy solutions and energy storage.